Posted by limedragon | Filed under books
Here's another local event to add to all the upcoming spring events: the local Yarn Shop Hop is back, this time as "Summer Knitting (and Crochet) on the Go." Since I went last time, I'll probably skip this one. But it's a great opportunity to see shops that you might not usually visit or haven't seen yet.
During the past few months, I've been working through part of my Chunkster/To Be Read goals.
Posted by limedragon | Filed under accessories, knitting
I have been quite scatterbrained lately. I handed in a recent design project last Friday and now have more time to catch up on this blog. However, I completely forgot to take additional photos of the below FO before mailing it, so you'll have to do with incomplete shots. Read the rest of this entry…
Posted by limedragon | Filed under knitting, socks
I can't believe I kept forgetting to post about this! I can now share the secret knitting project mentioned in this post.
I was lucky enough to be one of the sample knitters for Cookie A's new sock book Read the rest of this entry…
Tags: bearfoot, cookie a, devon, lace, mountain-colors, pink, purple, sample, socks
Posted by limedragon | Filed under general
Pepperidge Farm has made available the ubitiquous Australian cookies for us here in the US. Yum! According to the website, they're only available "for a limited time at Target." Such wording makes me want to build up an emergency stash in my freezer.
Posted by limedragon | Filed under events, knitting
Mugs:
If anyone is still looking for a knit cable mug (like this), I saw one this past Saturday (the 14th) on the Clearance table at the Starbucks located in the Southtown Shopping Center (at 494 & Penn).
Sock Competitions:
It's too late to sign up, but a new Sock Madness begins on March 18! I signed up for this iteration, but several commitments have come up suddenly so I don't know how I'll fare. Also, another Sock Wars will begin in May; sign-ups are still open (I'm not sure when they close). A new element, teams, has been introduced this year.
Local Events:
Quick reminder! There's only 2 weeks left for the ASI Bohus exhibit, so if you haven't visited yet, do stop by soon! (According to the museum website, it ends March 29; however, the MN Knitter's Guild website indicates the exhibit ends April 5?)
The Melvilles (Sally Melville, and her daughter Caddy Melville Ledbetter) will be hosted by The Yarnery on Sunday March 22. They'll be talking about their new book. (Details are in the sidebar here.)
Yarnover comes next month, April 18. I'll be taking Susanna Hansson's Lapland mitten class, and can't wait!
And in May is Shepherd's Harvest, the local mecca for fiber enthusiasts!
We sure are lucky to have lots of fiber events this spring! :)
Tags: bohus, shepherds-harvest, sock-madness, sock-wars, socks, starbucks, yarnover
Posted by limedragon | Filed under accessories, knitting
Late last year, I asked a big favor from three very busy people: letters of recommendation. I could have sent thank you notes, but decided I would make each person a handknit gift. Here's the first one!
Tags: bamboo, cider-moon, gift, green, isobel, lace, scarf, yarn zombie, zen yarn garden
Posted by limedragon | Filed under knitting
Yesterday's snowfall was pretty, but hard to clean up. I am really tired today from all the shoveling. Carol E of Giraffe Dreams has good photos of the snowstorm if you want to see.
Now, the recently completed project that was just meh? It's a rug.
Tags: brown, lion-brand, rug, tan, wool-ease
Posted by limedragon | Filed under general, knitting
Many appreciative thanks to everyone for the wonderful comments about my Bohus socks (last post)! I have been putting off blogging about another FO, because the project itself is… meh. I'm tempted to skip over it and blog about a nice lace scarf I just finished. We'll see what I decide to do on Friday! :)
Meanwhile, here are a couple cute things for you all to check out!
Apparently Miro keeps a herd of sheep (you may have to scroll down a bit). I like how there is a red sheep instead of a black one!
Last week, Chris Baldwin who does the webcomic Little Dee, made an awesome series on spinning/knitting. My favorite is the second one; I wish I could buy the artwork, but my budget won't allow it.
Tags: comics, little dee, random, sheep, webcomic
Posted by limedragon | Filed under knitting, socks
The project I worked feverishly on for most of last week? A new pair of socks!
Tags: angora, blue shimmer, bohus, dale-of-norway, natural, rib, socks, wool
Posted by limedragon | Filed under baby stuff, knitting
First, congratulations to Tracey of Frugal FuzzyBritches who left comment #3,000 here early in February! I didn't even realize I was close to another milestone until I logged onto my dashboard and noticed the even number! She chose a gift certificate to The Loopy Ewe as her prize, and picked out an awesome color of Trekking XXL.
Second, Eryka of Spare Room Knits nominated me for a Kreativ award; thank you!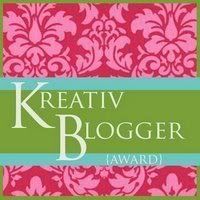 As a new nominee, you are encouraged to:
Copy the award to your site.
Link to the person from whom you received the award.
Nominate 8 5 other bloggers.
Link to those on your blog.
Leave a message on the blogs you nominated.
Here are my nominations, in alphabetical order:
---
Last week, I was occupied with several things: taking a technology break, working on a wonderful knitting project, and catching up on some TiVo recorded shows and the third season of Numb3rs. We had almost no sunshine last week, which for me is ideal TV-watching weather. When it's sunny, the glare from my windows makes it hard to see my TV (I don't use blackout curtains). I can't wait to show you the finished project, but that'll have to wait for Wednesday!
Meanwhile, I did finish a few little things earlier this month. Read the rest of this entry…