Posted by limedragon | Filed under baby stuff, knitting
First, congratulations to Tracey of Frugal FuzzyBritches who left comment #3,000 here early in February! I didn't even realize I was close to another milestone until I logged onto my dashboard and noticed the even number! She chose a gift certificate to The Loopy Ewe as her prize, and picked out an awesome color of Trekking XXL.
Second, Eryka of Spare Room Knits nominated me for a Kreativ award; thank you!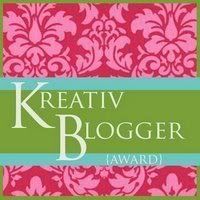 As a new nominee, you are encouraged to:
Copy the award to your site.
Link to the person from whom you received the award.
Nominate 8 5 other bloggers.
Link to those on your blog.
Leave a message on the blogs you nominated.
Here are my nominations, in alphabetical order:
---
Last week, I was occupied with several things: taking a technology break, working on a wonderful knitting project, and catching up on some TiVo recorded shows and the third season of Numb3rs. We had almost no sunshine last week, which for me is ideal TV-watching weather. When it's sunny, the glare from my windows makes it hard to see my TV (I don't use blackout curtains). I can't wait to show you the finished project, but that'll have to wait for Wednesday!
Meanwhile, I did finish a few little things earlier this month.
Some preemie hats for the k3tog drive.
And a square for The Dizzy Sheep's United Blanket of Change afghan drive. It took a few tries to figure out my gauge and to achieve an appropriately proportioned peace symbol, but I'm happy with the results.
---
Pattern: "Basic Preemie Hat" by Chell, k3tog Size: Preemie Yarn: Elann.com Esprit, 7471 Silver Sage Needles: various brands US 6 (4 & 4.25 mm) circulars Started: January 23, 2009 Completed: February 3, 2009 (Each hat took about 3 hours to complete.)
Pattern: "Peace" by yours truly for The Dizzy Sheep's United Blanket of Change drive Size: 10? square Yarn: Austermann Bombolo, 006 (brown & peach) Needles: Crystal Palance US 15 (10 mm) circular Started and Completed: February 7, 2009
10 Responses to "3,000!"
Leave a Reply