Posted by limedragon | Filed under books, knitting
If you like webcomics, there's a new one for knitters: The Knit Princess. It's on the cute side, but the material will certainly be familiar to us knitters! It started very recently, so you'll be able to catch up quickly.
Many of you will already have heard of Handknit Heroes from blogs or Ravelry. It's a new superhero graphic novel with a knitterly theme.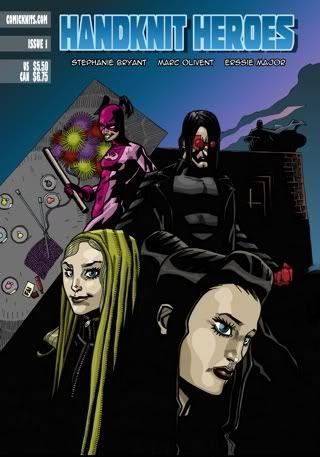 It took me a while to get used to this comic, as my comic book tastes have always gravitated toward Archie and his friends or $crooge McDuck. The drawing style is distinctly angular and strong; the female faces didn't seem at all feminine, which initially bothered me. Now that I'm used to it, I think the style works well with the story.
My favorite part was the bulletproof test (I'm being vague on purpose to avoid any spoilers) which made me laugh out loud. We're barely introduced to the main characters, twins Alex and Ana Miller, their mother Jen, and Ana's friend Sue before the first chapter ends. My interest has been piqued and I look forward to getting to know them better as the series continue. (There seemed to be a "moment" between Sue and Alex, but it may just be my imagination!)
We can't have a knitting comic without any patterns! Erssie Major designed the Hooded scarf (worn by Ana and partly visible on the front cover) included with this issue. What a great tie-in, showing a character wearing the knit garment! I'm guessing future issues will have 2 or more patterns each? (Edited to add: Nope, only one, see Stephanie's comment below.)
My only concern with Handknit Heroes is the font/type. For example, I found it most difficult to read Alex's thought boxes which have a red background. (Admittedly, my poor eyesight is a factor. Edited again: This is supposed to improve; see Stephanie's comment below.)
Handknit Heroes is currently available by subscription, or your LYS may have copies. If you like comics or graphic novels, give this a try. :)
Tags: comics, handknit heroes, knit princess, knitting, review, webcomic
10 Responses to "Knitting Comics"
Leave a Reply