Posted by limedragon | Filed under accessories, knitting
It's hard to get back in the swing of blogging when one hasn't been able to blog regularly for a while. My knitting feels unproductive. I've also been procrastinating on finishing up a sock pattern, but have set this week as the deadline.
The mother of one of Mom's co-workers had recently passed away, and she had given my mother two bagfuls of leftover yarn (her mother had been a knitter and crocheter). Mom requested that I make her (the co-worker) a gansey cap with this yarn, just like the one I had made earlier this year.
My first attempt, knitting the size Medium, was huge! I liked the fabric I was getting with the US 6 needles, and didn't want to go down to a 5, so I tried again with the size Small. The results were better, a little bit big, but a fair fit.
When I had Mom make the pompom I suggested she try one with both colors, since we had plenty of yarn. The end result is pretty cute.
I did discover that there is a small error in the body chart. The left side indicator for size Small is off by one stitch. I contacted the publisher, and they were already aware of this. This error should be corrected in the third and subsequent printings (I have the second).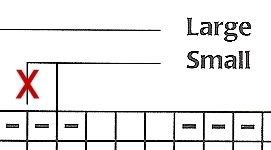 ---
Pattern: "Gansey Watch Cap" by Charlene Schurch, Hats On! Size: Small Yarn: unidentified acrylic in cream and sage Needles: Various brands US 6 circulars Started: April 9, 2008 Completed: April 13, 2008 Token Progress: 2 of 10 (Tokens available – 0)
Tags: charlene-schurch, chart, circular, correction, erratum, error, gansey, gift, green, hats, hats on!, mom, white
9 Responses to "Gansey Redux"
Leave a Reply